Surf courses & Rentals in el Palmar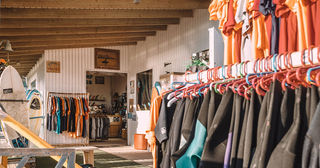 9Pies offers affordable surf courses in el Palmar for all levels and ages all year round in Spanish as well as English, with the adequate equipment for winter and summer. We normally offer our classes in reduced groups with a maximum of 6 students so that you have the opportunity to meet new people and have fun. Individual classes are also available. We are confident in our teaching method as we have had thousands of students come to our school.
The duration of the classes are approximately 2 hours and you can choose the duration of your course. Our advice is to opt for a 5 day course at least as this is the best guarantee of success in learning the necessary skills to maintain yourself in the water and to ensure your future progress. Our courses will ensure that you learn much quicker than by experimenting by yourself and ofcourse ensures your safety and improves your confidence. You don't have to attend consecutive days of class although it is recommended. There are vouchers available which are to be used within a specified time period. You can attend a one day course and opt to extend it. In our group classes you will have a great time sharing your experiences with people from different backgrounds and make great friends.
We offer classes all year round in the morning and afternoon. Morning classes are at 10:00 and 12:30 and afternoon classes at 16:00 and 18:30. Individual classes are offered to adults and children from the age of 5. In our group classes we do our best to assure that students have a similar level and age group so that you get the highest standard of instruction and value for money. We also organise courses and surf camps for big groups. Outside of peak season we have a more flexible timetable as it's much more relaxed. We also have wetsuits, surfboards, body boards, flippers and SUP boards for rental for those that have experience and want to practice by themselves. Surf guides are available in the area to explore other beaches and we organise surf trips.