Frequently asked questions surf camp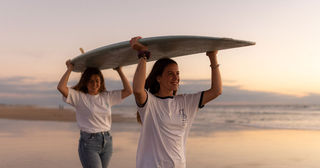 Surfcamp at el Palmar
What level of surfing do I have to have to attend the surfcamp?

Anyone, we have courses whether it is your first time surfing or if you already have a lot of experience and want to perfect your surfing.

Can I use the material after classes?

The complete package includes the use of 3/2 suits in spring and autumn and 4/3 suits in winter and surf boards during your stay

Are 9Pies surf camps year-round?

Our packs with accommodation in El Palmar are from October 1 to May 30, the time with the best waves in Cádiz

What ages and backgrounds are there in the surfcamp?

There are families with children, groups of friends and people who come alone from the age of 18 to... from all over the world with a clear desire to have a good time, surf and enjoy the area, although if we have to do an average it could be be 30 years old

Can I come for less than a week or more than a week to the surfcamp?

Yes, we are flexible and if we have availability you can come on the days you want

Are there more advanced level boards at school and longboards?

At 9Pies we have all types of surf boards and paddle surf according to conditions and levels for your enjoyment

Can I go to the surf camp alone?

Of course, many people come alone to meet new friends to share the holidays with.

Is there a possibility of eating at the surfcamp?

We have equipped kitchens in all apartments with a coffee maker, microwave, toaster, cutlery and crockery, both indoor and outdoor tables for eating, nearby supermarkets and restaurants but we do not serve meals except for the Friday barbecues that we include in the pack.

Can you pick me up from the airport or in Conil?

Yes, we do cheap transfers from the Jerez or Seville airport, of which you can also come by bus to Conil where we will pick you up for free

Can I arrive before check-in to the surfcamp?

Check-in time is 4:00 p.m. and check-out time is 1:00 p.m., but if we don't have check-ins or check-outs on those days we are flexible, and you can always leave your things at the school and surf at that time or arrive late if you need to. We will leave instructions and the keys in the locker

Where and when are the yoga classes?

Saturday classes are scheduled at 6:00 p.m. in a shala next to the school and during the week we usually do another class in the camp depending on the wave and tidal conditions.
Accommodations at el Palmar
Are the rooms shared?

Yes, the rooms are double or triple with single beds that you can put together if you come with your partner. You can also have a room just for you or an apartment for yourselves, contact us for prices

Do I have to bring sheets or towels?

We provide sheets and towels, as well as blankets

Is there wifi and places to work in the surf camp?

At the 9Pies surf camp we have wifi that usually works well and tables and chairs to work with your laptop in a quiet environment. Ask about long stays

Can I only contract accommodation, less classes or not attend all activities?

Yes, you can stay and bring your material for the courses, surf on your own, have fewer classes or not book activities in which you are not interested. If you hire the complete pack from the beginning we make a cheaper offer

Do I have to bring a car to the 9Pies surf camps?

It is not necessary, we have bicycles to go to school in 5 minutes and a van to get around. If you bring a car you can more easily visit other towns in the area if you want to sightsee in Cádiz.

Is there parking at the surf camp?

There is a parking lot for each apartment, but there is also room to park in the entrance lane

Is there drinking water at the surf camp?

In Palmar there is no drinking water, you can buy it in bars and supermarkets. It is a good idea to bring a bottle for the first night if you arrive late

How far is the surf camp from the school?

It is approximately two kilometers away.
Packs Surf camp Cadiz, Andalucía
Christmas and new Year's Eve surf camp at El Palmar, Cadiz

Easter week surf camp El Palmar, Cadiz

Surf camp el Palmar, Cadiz in Winter

Surf camp el Palmar, Cadiz in Spring