Rentals surf board at El Palmar, Cadiz

At the 9Pies Surf School and Surf Camp, we take pride in offering a wide range of Surfboards and Stand Up Paddles to cater to the needs of surfers of all levels. Our diverse selection of boards is designed to enhance your experience in the water and ensure you find the perfect board for you.
Surf equipment rental prices
Board and wetsuit

Price 2 hours 12€
4 hours 18 €
1 day 25 €
2 days 50 €
3 days 60 €
5 days 100 €
7 days 120€

Surfboards

Price 2 hours 10€
4 hours 15 €
1 day 20 €
2 days 40 €
3 days 50 €
5 days 80 €
7 days 100€

Sup board and paddle

Price 2 hours 15€
4 hours 20 €
1 day 30 €
2 days 60 €
3 days 80 €
5 days 120 €
7 days 150€

Wetsuit

Price 4 hours 5€
1 day 8 €
2 days 15 €
3 days 20 €
5 days 30 €
7 days 40€
For those taking their first steps into the world of surfing, we have softboards specifically designed for beginners. These boards offer great stability and ease of use, making them an excellent choice for learning to surf with confidence.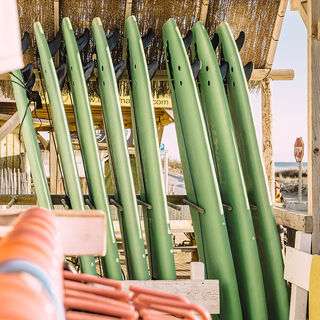 If you already have experience in surfing and are looking to take your skills to the next level, we have boards from renowned brands such as Nsp, Cortez and Torq. These epoxy boards are designed for intermediate surfers and offer exceptional performance in the water. They are ideal for those looking to improve their skills and enjoy the thrill of the waves.
For expert surfers seeking a higher level of performance, we offer boards from leading shapers made of fiberglass. These boards are meticulously designed and constructed to provide exceptional control and quick response in the waves. They are the perfect choice for those looking to master the waves and tackle new challenges in their surfing.
In our selection, you will also find Pukas polycarbonate boards, known for their excellent performance in the water. These boards are designed to provide a high-quality surfing experience and are ideal for surfers looking for a balance between performance and durability.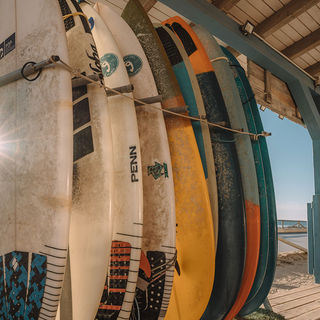 No matter your age or level of experience, we have boards for everyone. From boards under 6 feet for the youngest surfers or for summer waves, to 10-foot longboards, both classic and high-performance models for surfers with a larger build. Our variety of sizes and styles ensures that you will find the perfect board for your style and preferences.
Additionally, if you are interested in Stand Up Paddle or Paddle Surf, we have options in both inflatable and epoxy boards. These boards are ideal for getting started in paddle surfing or honing your skills, whether for leisurely paddling or catching exciting waves.
At the 9Pies Surf School and Surf Camp, we are committed to providing you with the best selection of boards and Stand Up Paddles so that you can fully enjoy your time in the water. Whether you are an enthusiastic beginner or an experienced surfer, we have the perfect board for you. Come and discover your passion for surfing with us!
# The prices of bodyboards and fins are the same as surfboards and wetsuit.
# Conditions of use for the school's material should be respected.
# 50% discount when doing a course longer than 2 days during course days