Private surf or paddle surf lessons

If you want more personalized attention and faster progression, we have what you need.
Whether you want the instructor just for you, or if you come with a partner, friends or family and want to close the group, in our private courses the trainer focuses on your characteristics to adapt to them and make the most of your time.
Courses indicated whether you have never surfed or if you have experience and are looking to improve your surfing skills. Ask for your discount when you do more than two days of private classes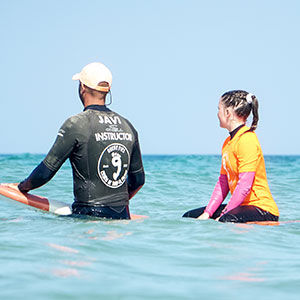 Private surf or Sup lessons in El Palmar
BOOK NOW
Advantages of private surf lessons: Personalized and efficient learning
When it comes to choosing between private or group surf lessons, the benefits of personalized instruction become evident. Discover why opting for private surf lessons can be the key to maximizing your learning and progress in this exciting water sport.
Personalized attention for effective learning

With private lessons, you enjoy individualized attention from the instructor. This focused attention allows you to address specific errors and progress more rapidly in each learning session.

Learn at your own pace

Everyone has their own learning pace. In a private lesson, the instructor tailors the teaching speed to your skills and comfort, ensuring you feel secure and comfortable as you advance your surfing abilities.

Customized learning goals

Private lessons enable you to set your own learning goals and specific focuses. Whether it's perfecting a particular technique or overcoming a specific fear of the water, the instructor customizes the lesson to meet your individual needs.

Emphasis on surf safety

Surf learning is not just about techniques; it also involves understanding safety measures in the water. In private lessons, the instructor can dedicate more time to teach you about sea conditions, beach safety, and how to handle various situations, providing a safer experience.

Increased comfort and confidence

The intimacy of a private lesson creates a more relaxed and comfortable environment. Without the pressure of other students, you can fully concentrate, gaining confidence more quickly and effectively.
Opting for private surf lessons not only enhances your learning experience but also allows you to progress more efficiently in the thrilling world of surfing. If you seek personalized instruction that adapts to your pace and specific needs, private lessons are the ideal choice to make the most of your time in the water.