Surf course prices

Surf lessons El Palmar, Cadiz
1 Surf lesson

Price 30€
Duration 2 hours 1 day

Surf course 2 days

Price 55€
Duration 4 hours in 2 days
Discount 5€

Surf course 3 days

Price 80€
Duration 6 hours in 3 days
Discount 10€

Surf course 4 days

Price 105€
Duration 8 hours in 4 days
Discount 15€

Surf course 5 days

Price 125€
Duration 10 hours in 5 days
Discount 25€
In our surf courses, equipment, insurance, and the instructor are all included. Maximum group size is 6 people, with the flexibility to decide the course duration on the spot and pay proportionally. Additionally, we offer a 10% discount if you bring your own board and wetsuit. For the youngest participants (6-8 years old), under suitable sea conditions, we provide small group classes with three students per instructor at €35 per class, due to their limited water autonomy. Take advantage of our group discounts and inquire about longer courses!
Prices private Surf, Paddle and Bodyboard lessons
Surf lesson 1 person

Price/pax 60€
Duration 1,5 hours

Surf lesson 2 persons

Price/pax 50€
Duration 2 hours

Surf lesson 3 persons

Price/pax 40€
Duration 2 hours

Surf lesson 4 persons

Price/pax 35€
Duration 2 hours
Our courses are primarily held in El Palmar. However, in the event that sea conditions are not suitable at this location, we have the flexibility to relocate to the beautiful beaches of Conil de la Frontera, Caños de Meca, and Barbate to ensure the safety and quality of the experience for our participants. This adaptability allows us to provide a secure and optimal environment for the practice of our courses.
Surf El Palmar, choose your course
Discover the waves: everything you need to know about the Ideal Surf Course
Surfing is not just a water sport; it's a liberating experience that connects you with nature and challenges you to overcome your limits. If you're ready to dive into the exciting world of surfing, a surf course is the first step towards the thrill of riding waves. In the following lines, we'll delve into the essential details that will help you choose the perfect surf course.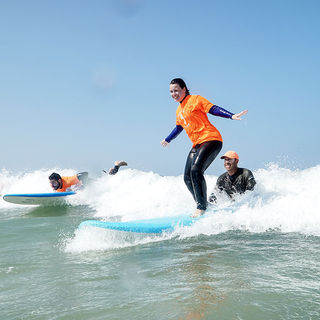 Immersion in the World of Surfing
Before you ride the waves, it's crucial to grasp the fundamentals of surfing. A good surf lesson will provide you with knowledge about the necessary equipment, paddling techniques, how to get up on the board, and, most importantly, how to stay safe in the water.
Location, the key to an unforgettable Surf Course Experience
The location of the surf course can make a difference in your experience. Beaches with consistent waves and safe conditions, such as El Palmar de Vejer and Conil de la Frontera, are ideal for beginners. Research surf schools in popular destinations and choose one that offers a perfect balance between challenge and safety.
Expert Surf Instructors That Make a Difference
A good surf course has experienced instructors who are not only passionate about the sport but also dedicated to teaching. Look for schools with certified instructors who can adapt to your skill level and provide constructive feedback.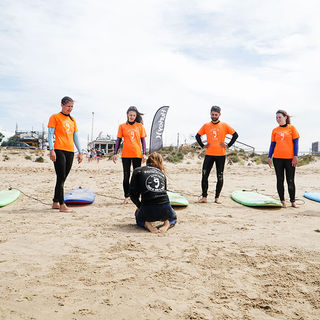 Quality equipment, the key to a successful experience
Choose a surf school that provides quality surf equipment. The right boards and gear can make a significant difference in your progression as a surfer. Ensure that the school has well-maintained equipment tailored to your skill level.
Friendly and motivational environment
The atmosphere of the course is also crucial. A friendly and motivational environment can make your learning experience much more enriching. Look for schools that foster a sense of community among students and provide a positive environment to learn and grow as a surfer.
In summary, choosing the right surf course is essential to make the most of this exciting activity. Research, seek recommendations, and choose a school that suits your needs and expectations. You are about to embark on a unique and thrilling adventure that will change your life!
Remember, surfing is not just a sport; it's a way of life. With the right surf course, you'll be ready to face the waves and discover a world of fun and challenge. Get ready to experience the ride of your life in the exciting world of surfing!"