Surf camp el Palmar, Cadiz in Winter
The calmest time in El Palmar is also the time when there are the most waves, which makes our surf camps a very attractive opportunity to relax in El Palmar and take your surfing to the next phase. You have a wide range of boards to try at our surfschool in some sometimes empty spots that, contrary to what many think, are still bathed by the omnipresent sun of Andalusia and thus share your experience with more surfers from all over the world who will become in your friends.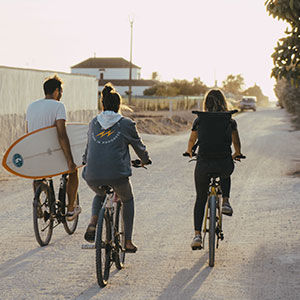 Surf camp in el Palmar, Cádiz
BOOK NOW
Accommodation at our  El Palmar apartments or other options
Surf course of 5 days . A 2-hour class daily with all materials and a qualified instructor included.
Availability of surf boards and wetsuit during your stay.
Two yoga lessons
Surf photos
Bbq
Transport to other beaches if the local conditions are not appropriate
Availability of bicycles during you stay
More activities:
OPTIONAL
Video Analysis (30€ plus)
Yoga lesson (10€ plus)
Valid from
November 12 to March 1
. This is an example based on 7 days of surfcamp, the duration is not binding. (Diferent price for bank holydays and long weekends) Contact us to find out the price for less or more days Please, send us a
mail
or call us
+34 622 780 262
to check availability, other duration, big groups and transfers before booking
Surf Camp 9 Pies, unforgettable experience and waves.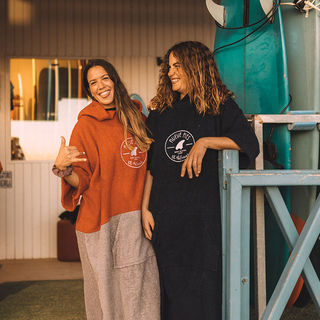 Winter in El Palmar is a magical time when tranquility blends with the best waves, making our surf camp an unparalleled opportunity to unwind in this corner of Cádiz and take your passion for surfing to the next level. At our camp, we offer a wide variety of boards for you to experiment with and enhance your surfing skills, all while enjoying moments when the spots appear deserted. Contrary to what many might think, winter in El Palmar remains a paradise bathed in the ever-present Andalusian sun.
In our surf camp, you'll not only have the chance to improve your surfing skills, but we also provide you with the opportunity to share this unique experience with surfers from around the world who, like you, have chosen El Palmar as their destination to enjoy the waves. These surfers from different corners of the world will become friends with whom you'll share unforgettable moments both in and out of the water.
In addition to the thrilling surf sessions, our surf camp offers a relaxed and welcoming environment, perfect for disconnecting and savoring the natural beauty of the Cadiz coast. You can explore the golden beaches, indulge in delicious local cuisine, and immerse yourself in Andalusian culture.
In summary, our surf camp in El Palmar during the winter provides you with the perfect blend of surfing, friendship, and relaxation in an exceptional setting. Join us and experience the magic of surfing in the winter paradise of Cadiz!
El Palmar surf camp
Our surf camp in El Palmar is a small community of four apartments offering a unique environment with a garden, pool, barbecue area, bicycles to explore the area, high-speed Wi-Fi, a cozy chillout area, and convenient parking. All of this is just a 10-minute walk from the beach.
Conil de la frontera surf house
Our surfhouse in Conil de la Frontera boasts an exceptional location with magnificent views of the Atlantic Ocean and El Palmar Beach. It features two triple bedrooms with terrace and views, one double bedroom, two bathrooms, a spacious living-dining room with a fireplace, and a comfortable fully equipped kitchen.
Frequently asked questions about surf camps
What level of surfing do I have to have to attend the surf camp?

Anyone, we have courses whether it is your first time surfing or if you already have a lot of experience and want to perfect your surfing.

Can I use the surf material after classes?

The complete package includes the use of 3/2 suits in spring and autumn and 4/3 suits in winter and surf boards during your stay

Are 9Pies surf camps year-round?

Our packs with accommodation in El Palmar are from October 1 to May 30, the time with the best waves in Cádiz

Are the rooms shared?

Yes, the rooms are double or triple with single beds that you can put together if you come with your partner. You can also have a room just for you or an apartment for yourselves, contact us for prices

What ages and backgrounds are there in the camp?

There are families with children, groups of friends and people who come alone from the age of 18 to... from all over the world with a clear desire to have a good time, surf and enjoy the area, although if we have to do an average it could be be 30 years old
Packs Surf camp Cadiz, Andalucía
Christmas and new Year's Eve surf camp at El Palmar, Cadiz

Easter week surf camp El Palmar, Cadiz

Surf camp el Palmar, Cadiz in Winter

Surf camp el Palmar, Cadiz in Spring