Surf camp el Palmar, Cadiz in Autumn
The autumn months are one of the most anticipated on the Cádiz coast. The first swells arrive after the summer, the sun continues to heat up, there are many bars and restaurants open to enjoy what are considered among the best beaches in Europe. A perfect time to recharge your batteries in El Palmar, improve your surfing through our courses, relax with our yoga classes, taste local foods at our barbecue, practice surfskate in our classes and take home an indelible memory with the surf photos we give you.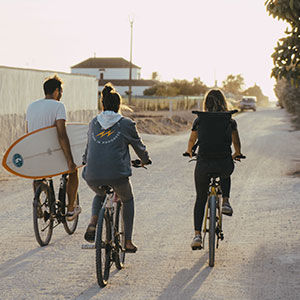 Surf camp in el Palmar, Cádiz
BOOK NOW
Accommodation at our El Palmar apartments or other options
Surf course of 5 days . A 2-hour class daily with all materials and a qualified instructor included.
Availability of surf boards and wetsuit during your stay.
Two Yoga lessons
Surfskate lesson
Friday bbq 
Surf photos
Moving to other beaches if the local conditions are not appropriate
 
Availability of bicycles during you stay
More activities:
OPTIONAL
Video Analysis (30€ plus)
Yoga lesson (10€ plus)
Autumn months are undoubtedly one of the most exciting times on the beautiful coast of Cadiz. With the arrival of the first swells after summer, the sun continues to warm the golden beaches, and a wide variety of bars and restaurants are open, allowing you to enjoy some of the beaches considered among the best in Europe. This is the perfect moment to recharge in El Palmar, enhance your surfing skills through our courses, find relaxation in our yoga classes, savor local cuisine at our barbecue, perfect your surfskate skills in our classes, and, of course, take unforgettable memories with you through the photos we provide.
In the fall, the beaches of the Cadiz coast come to life with the arrival of surfers and nature enthusiasts looking to enjoy ideal surfing conditions. Our surf camp in El Palmar becomes the epicenter of this activity, offering you the opportunity to improve your skills under the guidance of experienced instructors. With a wide range of boards and state-of-the-art equipment, we will help you reach your full potential in the water.
In addition to surfing, at our camp, we provide the opportunity to balance body and mind with yoga classes that connect you with the serenity of the natural surroundings. Our barbecue, featuring the authentic flavors of the region, allows you to savor local cuisine and experience Andalusian culinary culture.
If you wish to expand your skills on solid ground, our surfskate classes offer a fun way to improve your balance and coordination, which also benefits your surfing skills.
And to help you relive and share your unforgettable moments, we gift you with photos of your experiences in our camp, so you can take away a tangible memento of your time in El Palmar.
In summary, autumn on the Cadiz coast is an exciting and diverse season, and our surf camp in El Palmar offers you the opportunity to make the most of this time, both in the water and on land. Join us and create lasting memories while enjoying this autumnal paradise on the coast of Cadiz!
Valid from October 1 to November 12. This is an example based on 7 days of surfcamp, the duration is not binding. Contact us to find out the price for less or more days
Diferent price for bank holydays and long weekends
Please, send us a mail or call us+34 622 780 262 to check availability and for big groups, transfers and other duration before booking
Packs Surf camp Cadiz, Andalucía
Christmas and new Year's Eve surf camp at El Palmar, Cadiz

Easter week surf camp El Palmar, Cadiz

Surf camp el Palmar, Cadiz in Winter

Surf camp el Palmar, Cadiz in Spring