Frequently asked questions surf courses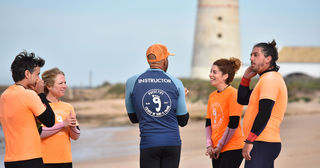 Surf courses
How many course days are necessary to learn to surf?

It is a recurring question when hiring a surf course with 9Pies. If you want to have the basic notions, one or two days of the course may be enough to get in touch with surfing. If you want a broader base, and develop what you have learned in the first few days, a course of 5 days or a week will be better for you. Above all, your body tones up after the first 2 or 3 sessions and gets used to the movements of surfing, the concepts are internalized and can be put into practice more easily. Now, learning to surf is a long-distance race and the progression is not usually fast.

What do I need to bring to my surf lesson?

You only need to bring a swimsuit, sun protection and a towel, that and a lot of desire is the only essential.

Is the material included in the price of the surf lesson?

The price includes insurance, the neoprene suit and the surfboard.

Can I bring my surfboard to the classes?

Of course you can, it's good to use the table you master for classes. Even so, at the school you can find a wide variety of boards, from shortboards with a few liters, all kinds of softboards or even classic longboards, in case you prefer to try one or not to bring your own for comfort.
Surf lesson for Kids
From what age can children participate in a surf class?

From 8 years old would be an appropriate age to start surfing. Between 9 and 14 years old we make groups of 6 per monitor maximum.

Is surfing suitable for children?

Children are more autonomous in the water and have greater coordination than older children. We organize very dynamic classes with games and we try to get the kids to interact, we adapt to their abilities so that they enjoy it to the fullest, it is an activity that they love, very fun, we introduce dynamics that teach respect for the sea and the environment and an education in values in addition to learning surfing.

Is the surf class safe for children?

Between 9 and 14 years old we make groups of 6 per monitor maximum. Sometimes, so that children between 6 and 8 years old can have their first experience with surfing, if the sea conditions are suitable, we organize small groups of 3 children per instructor.
Surf and waves in El Palmar, Cadiz
What time is best to surf in the palmar?

Early in the morning there are usually fewer people, and late in the morning, that's for sure, with the importance of this, increasingly more and even more so in summer. They are also the times when the wind is normally weaker, and that is good for the Palmar waves . Contrary to what many people believe, the wind is not good for the waves on the beach if it is not gentle.

What is the best season to surf in El Palmar?

For experienced surfers , the most consistent time is from October to April, with January and February being when you will find the most days of waves. For intermediate level surfers , from September to June there are good conditions. For beginner level surfers , throughout the year there are waves suitable for learning to surf . If in doubt, do not hesitate to come as you can always find your " surfing of the year "

What boards will I need to surf the Palmar waves?

In summer, except for a few isolated days, the waves are small and not very strong, so a longboard or a board with enough volume will be good for you . The rest of the year, although you can find more than two meters on the best days, you will usually be successful if you have a board that you feel comfortable on in waves of half a meter to one and a half meters that are not very complicated. Of course, contrary to what many people think, if you are looking for hollow and powerful waves you will also find them. In any case, at the school you can find a wide variety of boards in case the conditions do not suit the material you bring.

Is there a problem with surfing and the local population in the palmar?

Surfing in Cádiz has experienced unprecedented growth in recent years. On good days the usual peaks are usually quite full, although if you are one of those who get up early and move around a little in search of less crowded spots you will surely find your reward. There are a few critical waves that you will have serious problems if you enter, but in the vast majority, as in most of the world, if you use common sense, you can surf without any complications . In relation to the classes we have no problems, the atmosphere is calm and in the summer season, the busiest, we are lucky that the school is located in front of the authorized surf areaby the Vejer de la Frontera City Council , which includes from the Torre rock to the Camino de Guerrero
Surf El Palmar, choose your course