Initiation surfing course in El Palmar

If you have never tried surfing, tried by yourself or taken some course for a few days a long time ago and want to review the basics, this is your level.
Content
Introduction: Basic notions about the sea
Getting familiar with surfing: modalities, anatomy of the surfboard, rules in the water
Security measures: choosing surfing spots, assessing conditions of the water, currents, depth, awareness of possible dangers, falling and other surfers.
Position on the board and paddling and turning techniques, advice and practice on the beach
How to catch a broken wave. Calculating the velocity of the wave, paddling and positioning before pop-up
Catching a wave and getting up on the board: Choosing our position on the board (goofy or regular), different techniques for popping up, control over the board, balance and speed.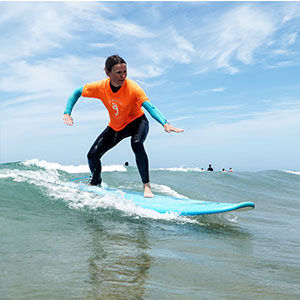 Course for young surfers in el Palmar
BOOK NOW