Surf courses at el Palmar

It's never too late to learn to surf, of course, but the sooner you start, the better, as you will learn faster and make better progress. For adults and young surfers we use a method adapted for quick comprehension and we focus more on warm-up and stretching exercises. You only need to be able to swim and we recommend a basic level of fitness.
The important thing in the end is to have fun, get some exercise and breathe in fresh air, but beware... it might just change your life!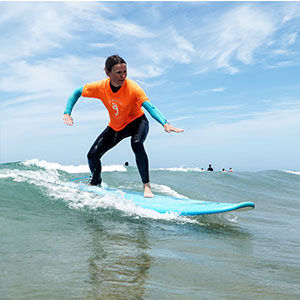 Surf course for young surfers in el Palmar
BOOK NOW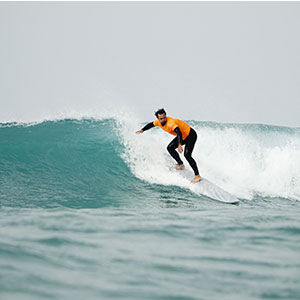 Surf course Intermediate level, in el Palmar
BOOK NOW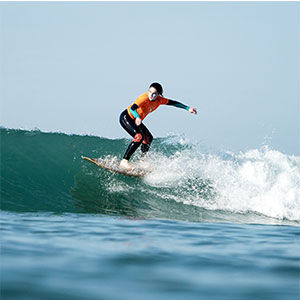 Surf course advanced level for adults, in el Palmar
BOOK NOW
Frequently asked questions about surf courses
How many course days are necessary to learn to surf?

It is a recurring question when hiring a surf course with 9Pies. If you want to have the basic notions, one or two days of the course may be enough to get in touch with surfing. If you want a broader base, and develop what you have learned in the first few days, a course of 5 days or a week will be better for you. Above all, your body tones up after the first 2 or 3 sessions and gets used to the movements of surfing, the concepts are internalized and can be put into practice more easily. Now, learning to surf is a long-distance race and the progression is not usually fast.

What do I need to bring to my surf lesson?

You only need to bring a swimsuit, sun protection and a towel, that and a lot of desire is the only essential.

Is the material included in the price of the surf lesson?

The price includes insurance, the neoprene suit and the surfboard.

Can I bring my surfboard to the classes?

Of course you can, it's good to use the table you master for classes. Even so, at the school you can find a wide variety of boards, from shortboards with a few liters, all kinds of softboards or even classic longboards, in case you prefer to try one or not to bring your own for comfort.