Stand Up paddle board

SUP is a sport derived from surfing and is gaining popularity, it can be learned relatively quickly, and isn't as physically demanding as surfing nor do you need any waves. At 9Pies we do windless SUP, downwind, water circuits, waves and even stretching and yoga sessions. Another advantage is the new perspective offered, as you can see the sea and quietly enjoy spectacular views.
Flat waters:
We do it both in the sea and nearby rivers to show the wonderful nature of our coast in an innovative fusion of sports and environmental education. From the first day you can row on flat waters and get some great exercise.
Waves:
We also offer lessons for beginners to learn the basic safety rules and tricks needed to take care of yourself and begin to catch waves, in addition to renting equipment when conditions are suitable for those who have some experience.
Sup lesson for one person: 60€
Sup lesson or tour for two people: 50€ each
Sup lesson or tour for three or more: 40€ each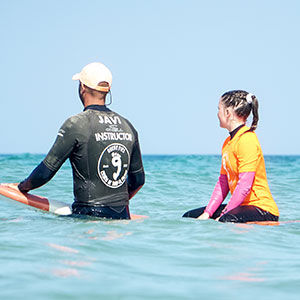 Individual surf or Sup lessons in El Palmar
BOOK NOW