Your school specialized in surf courses for children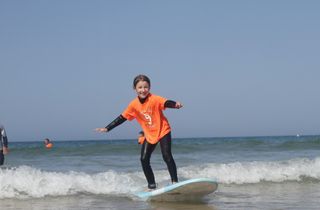 Summer is vacation time, high temperatures and soft waves, a suitable time for children to learn surfing.
Thanks to the many years that we have been teaching this activity and the word of mouth effect, we are lucky to have many children every day that allow us to organize groups at different times of different ages and levels. In this way, your children have a great time and make new friends while they are in contact with nature and do sports.
We have what we call small groups from 6 to 8 years old, groups from 8 to 12 years old and teenagers. From your first time to experts who have been surfing for many years and we have the material adapted to your needs You can give a course day or several weeks both in the morning and in the afternoon. Surfing has been revealed as a very powerful therapy to develop physical and psychological abilities at an early age.
And it is that after a surf class with 9Pies our little ones just want to eat and sleep much better.