El Palmar and Conil, top destinies for a surf camp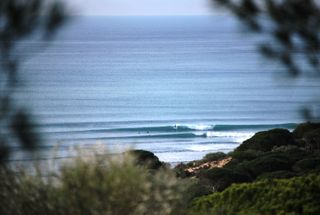 El Palmar and Conil have become in the last years a top destination worldwide for holding surf camps, combining accommodation with surf classes, equipment hire and guided services in the area. Here are a few of the reasons for this:
First there is the weather. It is clear that everyone likes to surf when the sun shines especially if you are a beginner or intermediate level. And  it is well known that the sun shines quite a bit in Cadiz.
This location is well connected to other Spanish and European main cities, via public transport, as well as low cost airlines that fly regularly to Jerez, Sevilla and Malaga.
Another factor that makes this site desirable for surfers is the quality of the waves, during the autumn, winter, and spring, contrary to other destinations we find spots with gentle and easy waves for surfers who are not so experienced as well as excellent waves for more experienced surfers (we have a constant flow of Pro surfers every winter). Not only at El Palmar, but also in Los Caños, Conil, Barbate, Tarifa we find great waves.
The welcoming of the people, wonderful food, calm way of life, amazing nature, virgin landscapes, interesting culture found in ancient sites, and the low cost of living; all these contribute to a fantastic holiday.
These are some of the most important reasons to come to our surf camps. We are waiting for you!